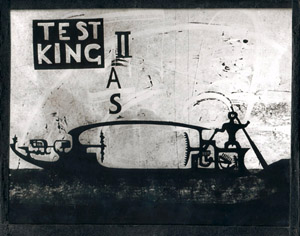 In perhaps 1954-1955 King began to work on ideas for an animated film, using the shadow-puppet techniques he learned from Lotte Reiniger. His notebooks reveal extensive planning for the film, and also documentation of the figures, soundtrack, and storyline. He chose to animate the first thirteen Cantos of the section devoted to Hell in Dante's Divine Comedy, a choice that may have reflected his troubled state of mind at that time.
The film was completed through an award from the British Film Institute, and screened at the ICA. BFI documentation show that the project was approved in July 1955.
A considerable part of the collection comprises sculptures, works on paper, cut-out figures (film puppets), film stills and correspondence connected with the making of the fim. Two prints of the film are known to exist, one in the BFI collection, and one in the collection of the estate. It is twenty minutes long. The photo above shows a framed glass plate from the film.